Biography of Zamenhof
Ludwik Lejzer ZAMENHOF (in Esperanto known as Ludoviko Lazaro) was born on the 15th of December 1859 in Ulica Zielona ("Green Street") in the town of Bialystok, which was then situated in the Russian Empire (now part of Poland). His parents were Mark Zamenhof and Rozalia Zamenhof. His father was a teacher of German and French and he also taught geography. He spoke Russian with his son, which was also the language Ludoviko studied in. His mother, a housewife, spoke with Ludoviko in Yiddish. From his childhood Ludoviko showed a love for languages. As a child, he dreamed of becoming a Russian writer, wrote several verses and even a 5-act tragedy. Later, when he was an adult, in one of his letters, he wrote that he fluently spoke three languages (Russian, Polish and German); he fluently read French, but spoke badly. During his life he learned around eight other languages.
The environment in which Zamenhof was born and grew up, can not be called easy. The town was international, containing diverse ethnicities, and according to the memories of Zamenhof, relation between the inhabitants were often far from friendly. The young Zamenhof often went to the market place where he saw the different ethnicities attacking each other. All of this affected the young Zamenhof and as a child he thought that the main reason for the hostile relations between nationalities was a lack of a common language. The dream of one human language strongly possessed him and from that time never left him.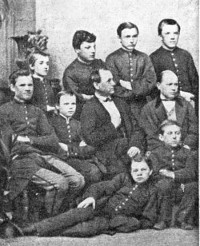 In 1865 Ludoviko started studying in a four year elementary school and in 1869 he started studying in secondary school, where he began studying foreign languages. He was always a diligent student and the teachers said he was very capable. In 1873, the family moved to Warsaw, where Ludovik's father started to teach German in secondary school.
According to the memories of Zamenhof, the worst thing was that in Warsaw he didn't see people, he only saw Russians, Poles, Jews etc., and everyone was hostile to the other and only thought of their own nationality. Ludoviko also quickly learned that he was Jewish because the politics of the Russian Empire were not favourable towards Jews.
There in Warsaw, he saw the large anti-semitism that later pushed him to join the Zionist movement, although from his earliest childhood he always prioritised the "human" and by his words he gave his whole life to that one idea and dream about the unity of humanity. Due to this, he quickly left the Zionist movement but always sympathised with the difficult life of his people.
Quite early, he concluded that the common language, about which he constantly thought, had to be neutral and couldn't belong to any nationality. This was because he saw the tension between different nationalities and understood, that no national language would be accepted by everyone as a common language. In a Warsaw secondary school in 1873, he came into contact with ancient languages and, loyal to his dream, he began to think about reviving one of these languages for modern use. However later he came to the firm conviction that none of the existing languages were suitable for his aim, so a new artificial language was required. Since then he not only dreamed about a common neutral language, but also began to work on its creation.
Lingwe uniwersala
When in 5th class of secondary school, Ludoviko Zamenhof came into contact with English grammar, which is very simple compared with Greek or Latin. This amazed him and convinced him that there was no need for excessive grammatical rules in his language. In his head was then a rough idea of his language. He began to throw away unnecessary rules and soon he had the smallest grammar he needed, which didn't fill more than a few pages. This delighted Ludoviko and with a new energy he continued his explorations, but the problem of a massive vocabulary troubled him.
One day, the shop sign швейцарская ("guard room") and кондитерская ("sweet shop") caught his attention. This is what what will solve the problem: suffixes! Light fell on the terrible problem of a massive vocabulary and it began to melt away. Even basic words (ex. "mother", "knife" and others) were easily remembered with the help of suffixes. Working on the dictionary, the author quickly realised that current languages already contained a massive number of ready words that were already international and known to many people. They were really a treasure for his future language and he succeeded in using this treasure. He used Latin and Germanic roots as the source of his vocabulary, choosing the simplest and most international of them.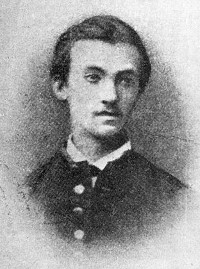 In 1878 the language was almost ready and the 19 year old Ludoviko named it "Lingwe uniwersala". Several of his classmates began to learn this language. Ludoviko celebrated in his parents home the birth of the universal language with these friends, although there was still a large difference between "Lingwe uniwersala" and Esperanto. That was the first period of the language.
The following year in 1879, Ludoviko traveled to Moscow to begin studying in university. He decided to study medicine. It was clear that Ludoviko had an interest in languages but his father thought that linguistics and literature were hopeless professions and that medicine was a better prospect. He told Ludoviko that linguistics could not support a family. Ludoviko was forced to follow his fathers wishes and started studying medicine. There is a legend that his father burnt the notebook with Lingwe uniwersala when Ludoviko was in Moscow. He wanted his son to only focus on his studies to become a good doctor.
Lingvo internacia
In 1881, Ludoviko had to return to Warsaw, where he continued his medical studies. This was linked to the financial situation of his father. He could no longer send the money for food and rent. Ludoviko had siblings who also had to study and also needed money.
In the same year, returning home and finding out about the burning of the notebook with Lingwe uniwersala, he began to focus again on the international language, because he could still remember all the details. At first he was unhappy about the destruction of the notebook but later he realised that the first version of the language was flawed. Some features that seemed suitable in theory were unsuitable in practice. He began to translate a lot, avoiding word-for-word translation, to this or that language and tried to think directly in the neutral language. Afterwards he noticed that the language had formed its own spirit and its own life. It had its own method of expression, not dependent on any other influence. He named this variant of the language "Lingvo internacia". During his last year of medical study in 1884, the international language took the form of the current Esperanto.
In 1885, Ludwik traveled to a medical practice in Lithuania, where he lived with his sister and brother-in-law. There he began to search for a publisher for the language but only to succeed two years later. It was around the same time that he also began to specialise in eye medicine, as he had come to the conclusion that that area was one of the calmest and most peaceful. He soon returned to Warsaw.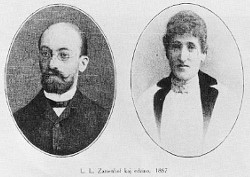 During the winter of 1886-1887 Ludwik, living in Warsaw, came into contact with Klara Zilbernik, who had been living with her sister. They fell in love. Klara's father was a soap maker and he gave money to Ludwik to publish the book. Zamenhof decided to use the pseudonym Doctor Esperanto. He thought that it would be difficult for a doctor dependent on the public, if they saw him engaged in irrelevant fantasies. Later, Zamenhof wrote that he felt that he risked the entire future well-being and welfare of his family.
That's how the year 1887 became very important for Ludwik: on the 26th of July Esperanto was born and He married Klara on the 9th of August, who remained loyal to her husband her whole life.
The Birth of Esperanto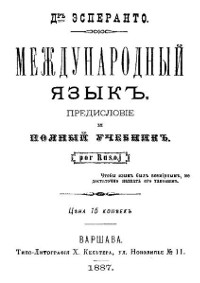 On the 26th of July, the First Book appeared, the first textbook of the international language now named Esperanto. The 26th of July is celebrated as the birthday of Esperanto. The original name in Russian of the work is Международный языкъ. Предисловіе и полный учебникъ. ("International Language. Introduction and full textbook"). The original edition was only in Russian, but before the end of 1887 the book also appeared in Polish, German and French, as well as a second edition in Russian. The first English edition appeared in 1888, badly translated, and it is said that Zamenhof himself stopped its sale until Richard H. Geoghegan, an Irishman living in Britain, re-translated the book.
The new language project was accepted with great enthusiasm. In spite of the partial success of the previous artificial language Volapuk, which appeared in 1879, Esperanto pretty quickly found followers around the whole world. It quickly showed that it was more suitable for international communication as it was easy, logical and beautiful. For Zamenhof, it was a great joy to feel himself surrounded by passionate like minded people. He saw that the language was used and became a living thing. Ludoviko began to receive letters with questions, advice, approval and many were already writing in Esperanto.
After the initial success, a "Second Book" appeared in 1888 ("Dua Libro de l' Lingvo Internacia"), which was released to describe the International Language and was the first book written entirely in Esperanto. On the 1st of September 1889 appeared "La Esperantisto", in Nuremberg (Germany), the first periodical in Esperanto. In many towns over diverse parts of the world (at first, of course, mostly in Europe) the first Esperanto groups took root. An international movement was being created.
In 1889, Zamenhof, due to a lack of money, had to leave his family and move to the town of Kerson (now in the southern part of Ukraine). Unfortunately, he didn't succeed in finding work. In May 1890, he moved again to Warsaw where he was joined by Klara and their two children, Adam and Sophie (they had been staying with Klara's father in Kaunas, modern Lithuania). After half a year, the family was finally reunited. But money problems troubled Ludoviko for a long time more.
Esperanto became more and more popular, and Zamenhof began correspondence with many of the new Esperantists across many countries. This correspondence required a lot of time and money. His financial situation continued to get worse, so Ludoviko again had to move, this time to Grodno. His family later joined him and they lived there until 1898, when the whole family returned to Warsaw for the last time.
Zamenhof didn't work solely on the language. Understandably, he frequently communicated, read and wrote a lot in Esperanto, wrote books and articles, but he also succeeded in finding time to improve his scientific knowledge. For example, in 1897, he returned to university in Warsaw to perfect his knowledge of optometry.
In Warsaw, he lived in a poor street in the Jewish Quarter, where he stayed until the First World War. He worked as an eye doctor and his prices were low compared with other doctors in the city. Zamenhof often accept patients for free if he saw that they didn't have the money and were living in poverty. He became very popular because many people could only afford to go to him. Zamenhof was forced to work all day and he dedicated his nights to Esperanto. That was how he lived until he died, very modestly, without much money.
The First Congress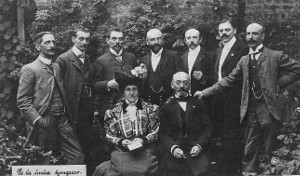 From 1898 onwards, a lot of work appeared in Esperanto, which spread in many countries. The result of this spreading was the World Congress. In 1905, in the French town of Boulogne-sur-Mer, the first World Congress took place and 688 people from 20 countries participated, including the creator of the language. It took place between the 5th and 12th of August and Zamenhof presented a long speech. For him, this was one of the most beautiful moments in his life and he was very emotional. He now had the proof that Esperanto could be fluently spoken and easily understood by different nationalities. In total, Zamenhof took part in nine congresses, the tenth was canceled due to the outbreak of the First World War. His wife Klara always accompanied her husband, so she also participated in every congress.
While the popularity of the language was growing, almost from the beginning of its existence emerged various proposals to reform Esperanto. In the beginning Zamenhof democratically listened to all of them and reported them meticulously in the magazine La Esperantisto. Soon after, however, when more and more proposals appeared, the creator of the language realized that many of the proposals were contradictory with one another. Also he already had experience and understood clearly, that something that looks fine in theory, can in practice be the opposite. Furthermore, some proposals satisfying one part of the Esperantists, could be rejected by others.
The Foundation of Esperanto
Zamenhof refused to change Esperanto, a decision which was supported by most Esperantists. He never claimed rights to the language, on the contrary, he wrote that he had never wanted to be the creator of the language but the initiator. His opinion was that he created the foundation but the rest was to be created by both society and life, just like it goes with all other living languages. He believed that Esperanto must live, grow and progress according to the same rules as all the other living languages. Because of that, an untouchable and important document, "Fundamento de Esperanto" which no-one had the right to change, was accepted in 1905. However ideas and propositions for changes within the language remained, which lead to a split within the Esperanto movement and Ido had appeared. For Zamenhof this had been a painful blow but for his natural humbleness and love for peace, he kept on trying to play down the problems and never showed any hostility towards his opponents. Not even towards the one who had betrayed him the most, Louis de Beaufront (Creator of the reformed Esperanto now knows as "Ido"), he wanted to help until the very end and wrote him a surprisingly charitable letter.
End of Zamenhof's Life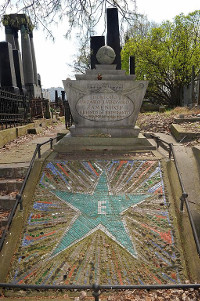 The first world war became a huge battle for Zamenhof, for the one, who considered humanity as "one big family". He did succeed in taking part in the eleventh Universala Kongreso in the Uniuted States of America, just like other European Esperantists. It was due to the war that travel to the States was impossible. His health had deteriorated and doctor Zamenhof could no longer work the whole day. His son Adam, took it upon himself to take much of his father's workload. In August the German army occupied Warsaw. The familio of Zamenhof was divided and Ludwik didn't even have the option of keeping in touch with his relatives (e.g. his own daughter), who had lived outside Warsaw.
Zemnhof died on the 14th of April 1917. He worked hard for the movement and for the language until the very end of his life. The prominent esperantist Gaston Waringhien wrote about Zamenhof in the following way in his book "1887 kaj la sekvo…":
He was shy to public and did not take pleasure in official ceremonies, which he took part in only because of his status as the creator of Esperanto. He was one of those rare people who played an important international role and yet has nothing to fear or hide from his correspondence: it just shows his natural gentleness, his profound sincerity and his high sense for justice.

He was not a speaker, he spoke softly and quietly. He smoked a lot, especially cigarettes. He had suffered a weak heart and insufficient pulse in his feet from the beginning of the 20th century. Because of that, when his income was sufficient he would visit german spas in summer.

However the most important traits of his character were his willpower, by which he was ready to offer everything in exchange for his ideals, and the patient stubbornness thanks to which he was able to overcome all the obstacles that would lie in the way of achieving his goals. His unwavering love was what allowed him to access both of those traits and inspired him to bring, with all the might and power of his body, mind and soul, a bit of solace to the physically and morally blinded humanity in fulfilling the antique prophecy "Comfort you, comfort you my people."
Sources
Kolker B. Vojaĝo en Esperanto-lando, Rotterdam, 2005
Korĵenkov A. Homarano: La vivo, verkoj kaj ideoj de d-ro Zamenhof, Kaliningrado, Kaunas, 2009
Privat E. Vivo de Zamenhof , Rikmansworth, 1957
Thien H. La vivo de D.ro L.L. Zamenhof en bildoj
Семенова, З. В., Исаев М. И. Учебник языка эсперанто, Москва, 1984